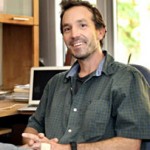 Stand Up 2 Cancer has several dream teams organized to help oncology research.  Today, I came across an article from UCSC discussing how one of their associate professors in biomolecular engineering, Joshua Stuart (right), is joining as a member of the prostate cancer dream team.  It looks like Stuart is already active in the breast cancer dream team.
From the article:
A second component of the UCSC team's work will be to develop a novel application called MedBook to connect patients, doctors, and researchers. Inspired by social media, MedBook is the brainchild of UCSC graduate student, Foundation trustee, and former Apple executive Ted Goldstein, who has described it as a "Facebook for cancer." The idea is to bring together the findings from patient tumor samples and connect researchers in a way that will help them work collaboratively to discover new models of disease and match patients with targeted treatments.
"The precision prostate oncology MedBook will act like an iPad app, linking patients, doctors, and researchers in a participatory information platform that will speed the matching of new medicines targeted at new druggable pathways to the patients who will benefit most," said Jonathan Simons, M.D., president and CEO of the Prostate Cancer Foundation.
A few other informaticists are already participating in the dream team projects:
Arul M. Chinnaiyan, M.D., Ph.D.
Director of Pathology Research Informatics
Director of Cancer Bioinformatics
The Regents of the University of Michigan
David Cherba, Ph.D.
Van Andel Research Institute (VARI)
Jason Corneveaux
Translational Genomic Research Institute (TGen)
This is probably an under-representation of the importance that informatics plays in oncology, but we are getting there.  Kudos to everyone providing support as we create tools to help us … Stand Up 2 Cancer.