Recently, I was in needed of an Nvidia pci video card for a new installation of Mythtv I put together for watching the olympics.  Last Christmas my sister and I gave our parents a new computer so I inherited the old one for re-purposing.  I didn't want to dump a lot of money into the box so I needed a hardware pci capture card to record over the air (OTA) hdtv and an nvidia pci video card with vdpau (or purevideo) support.
Free Hardware Rundown
One of the barriers to just anyone creating a mythtv system is figuring out whether a given set of hardware will work for a required task.  One of the most common questions on the mythtv user mailing list is something along the lines of "hey, will this hardware [record hdtv, play hdtv, stream, support three frontends etc]."  Here are the rough specs of what I got given to me.
Pentium 4 2.8 gHz (single core) processor
1 gb ram
160gb ide HD
onboard intel-based graphics
3 pci slots and one agp  slot
Will it play it?  No.  Will it record it?  Probably … but I wasn't too excited about the single ide drive.  You should be able to find something like this on ebay for around $100.
Finding a Cheap Fanless VDPau PCI Video Card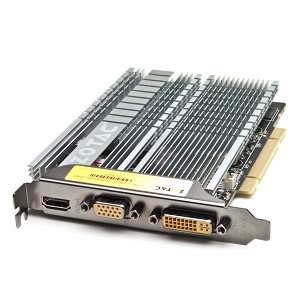 After checking wikipedia's purevideo page, I started to look up chipset and see if any manufacturer had put a gpu with complete acceleration for MPEG-1, MPEG-2, MPEG-4 Part 2 (a.k.a. MPEG-4 ASP), VC-1/WMV9 and H.264 onto a pci card, made it fanless, and sold it for cheap.  There was really only one card I could find.  The Zotac ZT-40605-10L fit the bill.  Total cost was around $60 after rebate and decodes full 1080p with minimal use of system resources.  It supports 4th generation vdpau and while I may have the option to use pci-express in a future build, I will almost certainly have an open pci slot.  There were some concerns that 512mb of video ram might be insufficient, but I haven't run into this problem.
Cheap PCI OTA HDTV Capture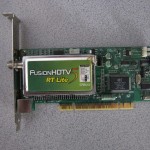 Before the nationwide conversion to OTA HD, I loved hauppage capture cards for how easy they were to install so I was hesitant to stray away at first.  The PCI requirement was, again, a difficult one.  I ended up finding a dvico fusion hdtv5 RT Lite on ebay for less than $20 (including shipping).  It works great and I couldn't be happier.  I bought a thin, $40, HD antenna and the combination is perfect.
Installation was a bit harder than I remember the pvr 250 being from many years ago but it works and I don't plan on changing to anything else for now.  The other benefit of this card is that if you wanted to put two or three of them into a single system, the motherboard wouldn't cost you an arm and a leg.
Finishing Up
Total cost of the upgrade was about $120 after tuner, video card, and antenna.  I had some extra ide hard drives laying around so I created a four drive raid0 array to help with disk io (although I don't have any benchmark data for that vs single drive).  The whole system is sitting in the original ugly black case in my living room and has had me happily skipping through commercials all Olympics long.